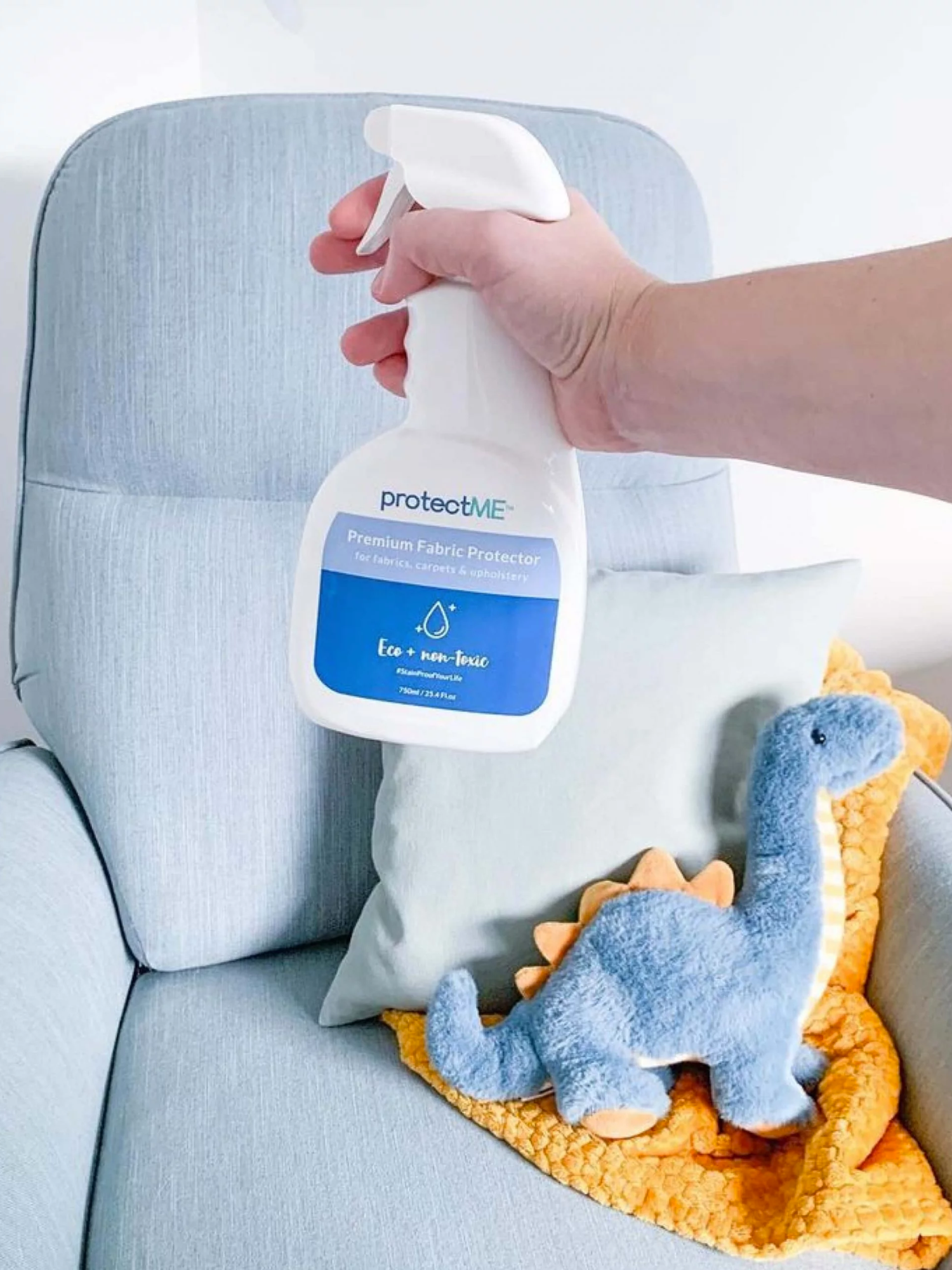 Stain proof your home the safe way
protectME is an eco friendly fabric protector & stain guard. Our non-toxic, water based fabric protector is formulated with natural ingredients. It is more efficient than traditional chemical sprays and much (much) safer for your family and pets.
FAQs
How To Use
Eco-friendly fabric protector
Our water repellent spray for fabric and upholstery will help you avoid stains on your couch, shoes, car seats, bedding, and more. protectME can stain guard your entire home more efficiently and safely than traditional fabric protectors. Our hydrophobic spray is water based and eco friendly — it's non toxic and safe to use around everyone, kids, pets & allergy sufferers! It's more effective than the toxic version of the product, resistant to abrasion and machine washable up to 30 times. 
Our protector spray repels all liquids and spills, making them bead and roll off the fabric. These include water, oils, other liquids, dirt and stains, reducing food sources for bacterial and fungal growth. Just use a cloth to wipe the liquid away. 
Why is it safer than traditional protector sprays? Traditional fabric protectors contain toxic chemicals and release fumes during and (long) after application. protectME's nanotechnology formulation is silicon dioxide (SiO2) and water based, nonflammable, odourless and is suitable for allergy sufferers. It's safe to use around humans and pets and is environmentally friendly.
protectME is also more efficient long term than regular hydrophobic sprays: it offers greater coverage per M2 at a more affordable price. Our hydrophobic coating also lasts longer because they are abrasion resistant and UV stable so less repeat applications are required. Fabrics and materials with nanotechnology coating preserve their composition and have superior durability for up to 3 years or more depending on use—unlike traditional fabric protectors only last 12 months.