No matter how carefully you
look after your upholstery &
furniture, accidents can happen!
As general dirt and dust can accumulate as part of normal use, keeping furniture & other upholstered items clean, not only keeps them looking their best but also lengthens their lifespan. A spill can happen quickly (red wine stain on brand new couch, we're looking at you), and when it does, time is of the essence. When you've applied protectME to your items, liquid spills bead and roll off the fabric—so you only have to wipe it away with a paper or dish towel.
FAQs
protectME is a water based, non toxic fabric protector that is safe to use on most fabric or textile surfaces: cotton, suede, leather, synthetics, wool and silk to name a few.
Different fabrics will require different amounts of product to be protected, please read 'How do I know how much product to apply?' to find out more.
Some precautions:
As some colour dyes are not colour fast, particularly fabrics that are using vegetable dyes for example, we recommend testing the surface in a small inconspicuous area for colour fastness prior to applying all over.
If you have applied another fabric protector prior to using protectME, please read 'Can I apply protectME after applying another fabric protector?'.
For most standard upholstery and fabric surfaces we recommend using 100ml of fabric protector per M2 of surface. It doesn't need to be exact, just make sure the fabric is saturated with product.
Please note saturating does not apply for leather, suede and velvet. We recommend a light spray and then gently "buffing" the product into the fibres with a soft, clean cloth. If you are spraying large areas, we recommend using our battery sprayer to ensure even application and avoid wrist fatigue.
Some fabrics will require a second coat of product to be applied with an additional 100ml per M2 within 30 minutes of the first application. These include but are not limited to:
Heavy or thick fabrics, as they tend to be more absorbent, such as heavyweight linen;
Textured fabrics or materials;
Highly absorbent fabrics and materials, such as linen.
One application of protectME lasts up to 30 washes! Once you have washed your item 30+ times, we recommend you reapply with protectME.
If you are unsure about the type of fabric you have or have any questions, send our friendly customer service team a message and include a photo of your fabric and we'll do our best to help you.
If you have applied another fabric protector prior to using protectME, we recommend waiting until the other protector has worn off, especially if using a mainstream stain guard such as Scotchgard or Guardsman. This is usually about 12 months after application. This is because these fabric protectors sit on top of the fabric and will prevent protectME from bonding properly. Unlike these protectors, protectME is formulated with nanotechnology and will get into the fabric, forming a much stronger and durable protective barrier that lasts up to 3 years.
protectME can be used on velvet, suede or microfibre and most fabrics with a nap such as melton, flannel, serge, camel's hair, sweatshirt fleece, brushed denim, mohair, lamb's wool, velveteen, corduroy, fleece, terry cloth, or fake fur. We recommend using a soft brush to help raise the nap of the fabric and ensure even product distribution, once protectME has been sprayed on.
You can read our blog post about velvet here.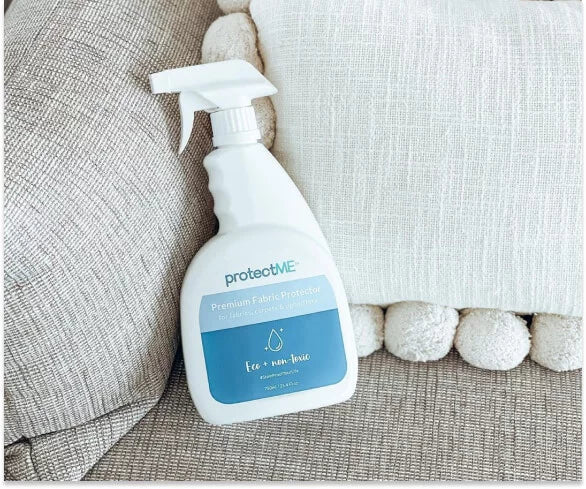 Stain proof your home
Our eco friendly couch fabric protector is safe to be applied around family, kids, pets and allergy sufferers. Unlike traditional stain guards, formulated with highly toxic chemicals dangerous for human health and the environment, protectME is an invisible and breathable coating that repels liquids, dirt and stains whilst still allowing items to look, feel and smell natural.
FAQs
How To Use